Life as we know it is under threat… a disastrous FLOOD is forecasted to hit London this February 2018.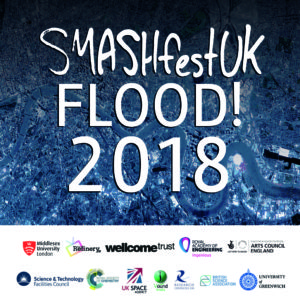 SMASHfestUK is back for its fourth year and things are getting wetter!
Deptford Lounge 12th to 16th February 2018
The Albany Theatre 15th to 16th February 2018 
We're delighted to be returning to Deptford this year with SMASHfestUK 2018: FLOOD – a crazy, glorious, 5-day FREE festival. It's a mash-up of comedy, experiments, games, art, music, den-building, storytelling and much, much more for all ages. This year – we've heard that Deptford is at risk of FLOOD!
What would happen if the Thames burst its banks and Deptford became submerged? How would we survive? How could we escape?  If Deptford turned into wetlands – what would we live in? What food would we live on? And if we got into seriously deep water and the whole Earth was under threat – could we find another home somewhere living in space? This year's activities include interactive science sand-pits, games, demonstrations and experiments, a sensory room, virtual reality space tours, a murder-mystery court case, a game of infective detectives, den-building, variety performances, opportunities to "meet the mosquitoes", build your own hologram, our amazing, family-friendly play, Cosmic Jives and much much more. As usual, everything is FREE (although your free tickets can be reserved for performances, talks and shows) – all we need is YOU!
Last year SMASHfestUK 2017: SUPERVOLCANO was a huge success, entertaining nearly 2000 people over the course of the half-term holiday. The feedback from you was that you wanted us to come back again so we have. Even bigger and better than before! SMASHfestUK was founded to encourage young people to interact with science, engineering, technology, maths, design, theatre, art, performance and music all at the same time in a way they would not usually experience.
Venues & Events
The Albany | Deptford Lounge
Deptford Lounge
Watch this space.
The Albany
Watch this space.